1866-1875
1866

Charles Goodnight and Oliver Loving drive a herd of cattle by way of the old Butterfield stage route from Fort Belknap to the Pecos River, then north to Fort Sumner, New Mexico. The "Goodnight-Loving Trail" allows cattle to be driven to market in Denver, Colorado, without traveling through Indian Territory.
Fort Richardson is established near Jacksboro by companies of 6th Cavalry. Companies of 4th Cavalry are assigned to Fort Martin Scott, Fort Mason, Fort Inge, Fort Clark, and Camp Verde. Fort Martin Scott is again abandoned within one year.
1867
A treaty negotiated at Medicine Lodge Creek, Kansas, results in several bands of Plains Indians moving to reservations in Indian Territory. One reservation is designated for Comanche and Kiowa, another for Cheyenne and Arapahoe. The Indians retain the right to leave the reservation to hunt buffalo.
First herd of Texas cattle reaches railheads in Abilene, Kansas, by way of the "Chisholm Trail." The trail passes through Indian Territory to the east of the Comanche and Kiowa reservation.
Fort Davis, Fort Quitman, and Fort Stockton are re-occupied by companies of 9th Cavalry, a regiment of black enlisted men commanded by white officers.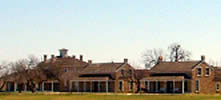 Fort Concho is established near the junction of the main and north forks of the Concho River. Fort Griffin is established on the Clear Fork of the Brazos River by companies of 6th Cavalry.
Former Pony Express superintendent Ben Ficklin takes over San Antonio-El Paso coach and mail line operating by way of the "upper road" through Fredericksburg, Mason, and Fort Concho.
Company K, 9th Cavalry, is attacked in camp at Fort Lancaster by a combined force of Indians, Mexicans, and whites believed to be former Confederate soldiers. The number of attackers is estimated at 900-1,500. Three 9th Cavalry troopers are killed.
The 6th Cavalry post at Buffalo Springs in Clay County is beseiged by some 300 Comanches. Troopers and civilian employees of the post quartermaster conduct a defense for two days until the Indians withdraw when a cavalry patrol returns to the post.
1868

Ulysses S. Grant is elected president of the United States. Under Grant's "Peace Policy," the U.S. Army is not allowed to go onto Indian reservations unless requested by the government's Indian agents.
Fort McKavett is re-occupied by companies of 4th Cavalry and 35th Infantry.
Comanches attack a farm at Legion Creek, near Llano. In the "Legion Valley Massacre," three white women and two infant children are killed, one woman is shot and scalped, but survives, and two children are carried off.
1870

A detachment of the 6th Cavalry from Fort Richardson attacks a camp of Kiowa raiders led by Kicking Bird. In the resulting Battle of the Little Wichita River, three soldiers are killed and 11 wounded. Indian losses are estimated at 15 killed, with number of wounded unknown.
1871
After several Indian attacks on freight wagon trains on the Salt Creek Prairie of Young County, U.S. Army Gen. William T. Sherman orders Col. Ranald Mackenzie to conduct operations against Comanche and Kiowa found away from their reservation. These campaigns mark the beginning of the end of President Grant's "Peace Policy."
Kiowa leaders Big Tree, Satank, and Satanta are arrested at Fort Sill, Indian Territory, for the murder of several teamsters in the "Warren Wagon Train Massacre."

Satank is killed while trying to escape. The others are convicted by a Jacksboro jury and sentenced to terms in the Texas penitentiary, but are later paroled.
The 6th Cavalry is transferred to Kansas and is replaced by companies of the 4th Cavalry.
Mackenzie begins a series of expeditions onto the Llano Estacado ("Staked Plain") by the 4th Cavalry and Tonkawa allies. During the second, Mackenzie loses 66 cavalry horses in a night attack by Comanches under Quanah Parker, son of former Comanche captive Cynthia Ann Parker. The campaign ends after an inconclusive battle at Blanco Canyon, in which Mackenzie is wounded.
1872

While on an expedition to the Llano Estacado, companies of Mackenzie's 4th Cavalry, 24th Infantry, and Tonkawa scouts attack a Comanche village of 175 lodges on the North Fork of the Red River. About 130 Indian women and children and the Indian horse herd of some 800 animals are captured. Three soldiers are killed and seven wounded. The Indians suffer 50 killed and seven wounded, but recapture most of the horses during a nighttime raid. Indian prisoners are sent to Fort Sill, Indian Territory.
1873
Seven companies of the 10th Cavalry—black enlisted men commanded by white officers and called "buffalo soldiers" by their Cheyenne adversaries—are transferred from Fort Sill, Indian Territory, to Texas posts Fort Richardson, Fort Griffin, and Fort Concho.

Mackenzie and six companies of the 4th Cavalry, along with 24 Seminole-Negro scouts led by Lt. John Bullis cross the Rio Grande and attack a village of Lipan and Kickapoo near Remolino, Mexico. One soldier and 19 Indians are killed. Soldiers capture 40 Indian women and children—who later are sent to Fort Gibson, Indian Territory—and 65 horses.
1874
After a party of white buffalo hunters is attacked near Adobe Walls by a large force of Cheyenne, Comanche, and Kiowa, General Sherman orders five army columns from Indian Territory, Kansas, New Mexico, and Texas into the Texas Panhandle to drive the Indians onto the reservations.

The seven-month campaign, becomes known as the "Red River War" and ends with the southern Plains Indians submitting to reservation life.
The civilian settlement on "The Flat" between the post of Fort Griffin and the Clear Fork of the Brazos River becomes a major center of the buffalo hunting trade and a supply point for cattlemen on the "Western Trail" from south Texas to Dodge City, Kansas.
1875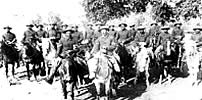 Lt. Col. William Shafter leads an expedition of "buffalo soldiers"—10th Cavalry, 24th and 25th Infantry—Tonkawa scouts, and Bullis's Seminole-Negro scouts through west Texas and southeastern New Mexico. The command departs Fort Concho in July and returns in December after a march of more than 2,500 miles, including three treks across the Llano Estacado. The expedition temporarily sweeps the plains clear of Apaches, and Shafter's reports and maps open the region to white settlement.
The 9th Cavalry is transferred to New Mexico, and is replaced by the 8th Cavalry. Mackenzie and the 4th Cavalry are transferred to Indian Territory. Col. Benjamin Grierson and companies of the 10th Cavalry remaining in Indian Territory are transferred to Texas, with regimental headquarters at Fort Concho.
Fort Elliott is established by companies of the 4th Cavalry and 19th Infantry on Sweetwater Creek in the Texas Panhandle
Tom Green County is organized. The small community of Benficklin—near the San Antonio-El Paso stage station on the Concho River—becomes the first county seat, prevailing over the efforts of San Angela, the community "Over the River" from Fort Concho.