1876-1882
1876


Lt. Col. William Shafter leads two expeditions of buffalo soldiers into Mexico. One attacks a Lipan Village near Zaragoza, another attacks a Kickapoo Camp in the Santa Rosa Mountains. Both expeditions return with prisoners and captured horses and mules.

1878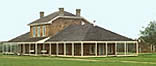 Fort Richardson is abandoned.
1879


The town of Benficklin is destroyed by a flood of the Concho River. County government is relocated to San Angela, which becomes the permanent county seat and is renamed "San Angelo."

1880

A band of Warm Springs and Mescalero Apaches under the chief Victorio terrorize southern New Mexico and West Texas. During July and August, detachments of the 10th Cavalry and 25th Infantry fight sharp engagements with the Apaches, denying them access to vital water holes in the trans-Pecos region of west Texas. Victorio withdraws to the mountains of Mexico, where he is killed by Mexican soldiers.
1881
The post at Fort Griffin is abandoned. Residents of the civilian community begin moving to Albany, county seat of Shackelford County.
Lt. Bullis and 30 Seminole-Negro scouts pursue a band of Lipan Apache raiders into Mexico. It is the last action against Indians conducted by U.S. Army units in Texas.

1882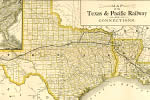 Fort McKavett is ordered to be abandoned, but an additional year is required for the Army to remove the supplies stored at the fort. After the soldiers depart, civilian residents of nearby "Scabtown" occupy the vacated army buildings and establish the town of Fort McKavett.
The Texas and Pacific Railroad reaches El Paso from Fort Worth. The San Antonio-El Paso stagecoach line goes out of business.
Credits
The Timeline of Frontier Texas was written by Steve Dial, Contributing Editor for Texas Beyond History.